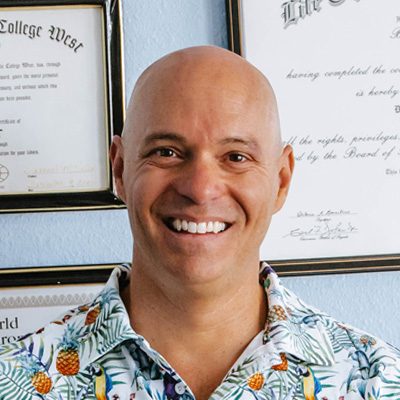 Owner & Chiropractor
Sam Vella D.C.
Dr. Sam Vella is a licensed chiropractor and graduated from Life Chiropractic College West, located in Hayward, California in 2000. He also has held licenses in Hawaii and Arizona.
His first office was established in San Diego where he practiced for several years before relocating to the North Shore of Oahu. Dr. Vella owned and operated chiropractic clinics on the North Shore of Hawaii and in Honolulu.
With years of experience and expertise in family care, sports chiropractic, pediatrics, auto and work injuries, Dr. Vella is excited to be providing the Palm Desert, La Quinta, Rancho Mirage, and greater Palm Springs area the highest level of chiropractic care. He uses a "diversified" hands-on approach but also utilizes "light force" or Activator adjustments for those patients that have specific needs or request it.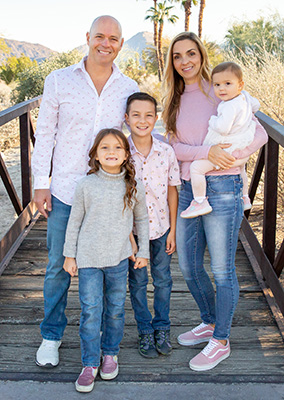 For almost a decade Dr. Vella was the attending chiropractor for the Triple Crown of Surfing contest series in Hawaii. Each year the World Surf League's Championship Tour (WSL) ends its year-long season with professional events at Haleiwa, Sunset Beach, and the Banzai Pipeline, where the world's best surfers come to compete and ride the best and most challenging waves. Dr. Vella had the opportunity to provide chiropractic care for elite athletes and help them perform their best while competing.
Using a whole-body chiropractic approach, Dr. Vella has safely and successfully treated thousands of patients of all ages and various types of injuries. From newborns to the elderly, world-class athletes, pregnancy, and the most challenging cases, Dr. Vella is highly experienced and will develop a plan to suit your personal health needs.
When not in the office Dr. Vella enjoys spending time and traveling with his wife and two children. He is also an avid mountain biker, surfer, and skier and loves being outdoors enjoying an active healthy lifestyle with his family.
---
Dr. Sam Vella not only promotes an active lifestyle but lives and breathes it. His passions are surfing, mountain biking, and skiing.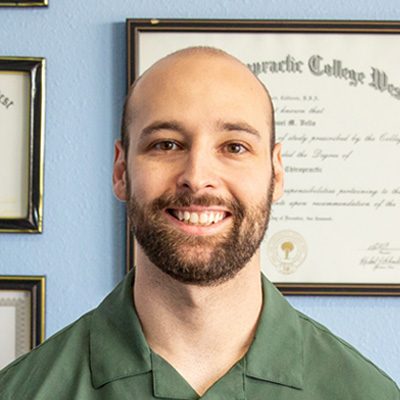 associate chiropractor
Matthew Torres D.C.
Dr. Matthew Torres is a Doctor of Chiropractic and graduated from Life Chiropractic College West. During his time there he had the opportunity to work with a wide variety of patients and conditions.
His work ranged from helping with acute and chronic occupational injuries, guiding patients to improve their general health and well-being, increasing athletic performance, and even providing treatment for some of the school's rugby players. When Dr. Torres begins with a patient, he looks at all factors in their life that could be causing their problem. By taking into account each person's symptoms, lifestyle, injuries, nutrition, and other factors contributing to their health, he is able to find the key areas that need to be addressed in order to alleviate their symptoms and optimize their body's health.
Dr. Torres is passionate about helping others and has navigated multiple careers in the health field prior to finding my calling. In college, he suffered from a knee injury and went through the medical system but was left without answers or relief. The only option he was presented with was to take anti-inflammatory drugs as needed to help mask the pain. He was a healthy 20-year-old who was passionate about fitness and was now unable to exercise without severe knee pain. Not being satisfied with the care he received, he felt compelled to look for alternative treatments. This experience led him on a search to become a chiropractor. He found his passion; he knew he wanted to help others improve their health, heal injuries, and maximize their body's ability to function. Dr. Torres' first became a personal trainer while I completed my Bachelor of Science degree in Kinesiology with a focus in Exercise Science. After that, he attended Life Chiropractic College West to earn his Doctor of Chiropractic which aligned well with my philosophy and view of the body.
Dr. Torres recently joined Palm Desert Chiropractic fueled by a desire to give back to his community, utilizing chiropractic to enhance lives. He brings with him the latest in chiropractic science and techniques and is an incredible addition to the Palm Desert Chiropractic Team. He is passionate about helping others restore their health so they can begin to reconnect with their hobbies, relationships, and goals; and ultimately live their life to the fullest.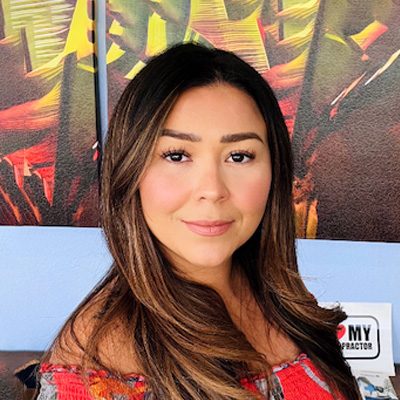 Office Manager & Billing
Vi Rincon
Vi is an enthusiastic and innovative professional with 12 years of experience in patient focus, insurance verification, and organizing the business office setting. She is skilled in customer service and relations and can take detailed information on patient issues as well as reassurance and possible solutions.
Vi enjoys informing patients of their follow-up treatment plans and billing concerns and questions, making sure they receive the best care even after their visit. Vi is adept at managing Palm Desert Chiropractic billing and does her part to ensure that it operates smoothly.
Vi enjoys meeting and getting to know all the patients that came in the door giving them her undivided attention. She will help you with any necessary referrals, follow-ups, and questions before being seen.
Vi is compassionate and kind, providing her help in any way possible. Aside from working, she enjoys spending time with her family, as well as pickleball and field shooting.
Come by and schedule your appointment today, she will welcome you with a warm smile.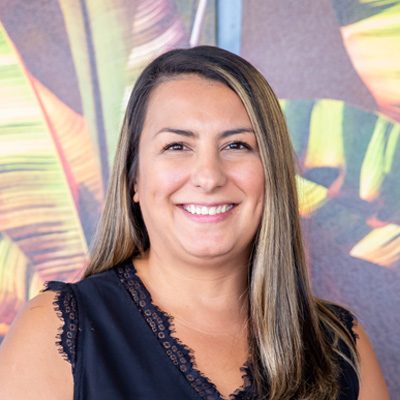 Front Desk
Karla Rodriguez
Monday
9:00am - 12:00pm
3:00pm - 6:00pm
---
Tuesday
9:00am - 12:00pm
3:00pm - 6:00pm
---
Wednesday
9:00am - 12:00pm
3:00pm - 6:00pm
---
Thursday
9:00am - 12:00pm
3:00pm - 6:00pm
---
Friday
9:00am - 12:00pm
---
Saturday & Sunday
Closed